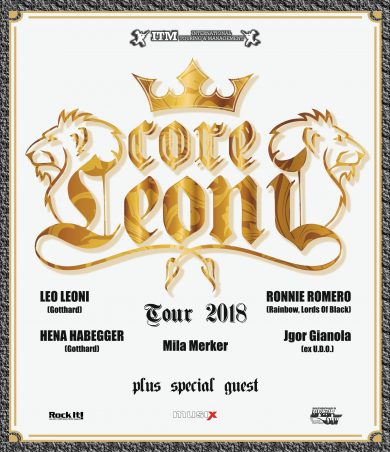 Gastbeitrag 10.09.2018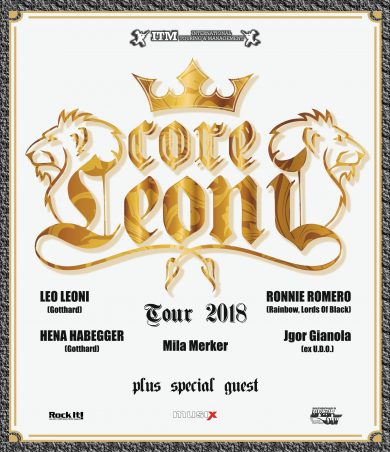 CORELEONI
CORELEONI, projet créé par le guitariste de GOTTHARD, Leo Leoni.
Pour le 25ème anniversaire de la sortie du premier album de GOTTHARD, Leo a voulu rendre hommage à des chansons comme – DOWNTOWN, FIREDANCE HIGHER, HERE COMES THE HEAT, IN THE NAME, RIDE ON… LET IT BE, ALL I CARE 4…
Les titres ont été rafraîchis, réenregistrer tout en respectant l'esprit GOTTHARD. Cet hommage au passé se veut un grand moment de plaisir que désirent nous faire partager les musiciens.
Line-up Coreleoni
Leo Leoni (guitar) (GOTTHARD)
Ronnie Romero (vocals) (LORDS OF BLACK, RAINBOW)
Hena Habegger (drums) (GOTTHARD)
Jgor Gianola (guitar) (U.D.O., JORN)
Mila Merker (bass)
SILVER DUST
Le groupe Jurassien après le vernissage de son 3ème opus « House 21 » en avril dernier reprend la route pour une tournée européenne avec LORDI. Le concert de Sion clôturera cette tournée, cette fois ci avec CORELEONI.
Le groupe met un point d'honneur à présenter un véritable spectacle théâtral à chacun de ses concerts. Son look à la Tim Burton, voire « steampunk », et sa musique ne laissent personne indifférent. Ne ratez pas l'occasion!
Suite au départ du batteur Mr.Killjoy, le groupe présentera son nouveau batteur. Le groupe promet une belle surprise puisque celui-ci n'est autre qu'un grand talent formé par Rapacchietti Diego, le batteur du mythique groupe Coroner.
Line-up Silver Dust
Lord Campbell (guitar – vocals)
Tiny Pistol (guitar)
Kurghan (bass)
Gastbeitrag von Alain
Gastbeitrag 10.09.2018